The Project
Wolkenpark started back in the 90ies as a duo project by trumpet player Kriz Flew and sound designer/composer Mehdi Khansari. They grew up in a suburb of Zurich and made their first musical steps jamming and producing in the bedroom at Kriz's home. Mehdi using an iron board for a keyboard stand and Kriz running his Atari 1040 computer recording MIDI. Trumpet cuts had to be recorded live while capturing the master on a Casio DAT recorder, because 4-track-tape recorders were unaffordable at that time.
They had some decent success, winning prices on local competitions.
After leaving their parents homes, they took different musical careers paths: Mehdi went after a film composer career in London while Kriz stayed in Switzerland, studying at the Swiss Jazz School in Berne, building up a recording studio (http://www.klangfaktur.ch) and a reputation as studio and session musician for musicals and innumerable bands of all styles.
Several decades later in 2009, Mehdi had returned from London back to Zurich, their ways crossed again. Still having the same musical heroes, they decided to follow their own vision of an electronic, danceable, live emerging music which in this combination was never made and heard before.
In the beginning they struggled with hardware problems, laptops and interfaces had terrible latencies. But the constant search for better workflows and massive improvements of the soft- and hardware industry finally let them to do what became Wolkenpark's trademark: live improvised electronic music with a jazzy flavor and an impressive musical space.
As «Wolkenpark» they won the «Nightclub-City Original Song Contest» at Indaba with «Frappantine» and their Track «Cheerful Waiting Room» was elected for the Christie's Lounge at the exhibition Art Basel in Miami and «Sparkling Water» got a 3rd price at «HOFA Production & Song Contest 2018» (listen to the tracks on this website).
Since Mehdi retired as live perfomer in 2018, they continue as jamming studio project
In summer 2018 Kriz was invited to do some live gigs and took the oportunity to expand Wolkenpark to a trio featuring the extraordinary Jean-Pierre Schaller on electric bass and Andy Brugger on drums. Together they worked with the electric jazz combo «Tanga Zoo» and will continue their collaboration as a trio with Wolkenpark. In Spring 2019 Wolkenpark played live on tour for the first time as a trio, visiting several cities in Switzerland. A second tour to Russia is in preparation.
The Musicians
Kriz Flew (trumpet, synth & electronics)
For over 30 years, Kriz worked as a vocalist, hornplayer, soloist and musical director for various bands and musicals on stage. His work as a studio musician is documented on more than 30 albums. Besides the trumpet and flugelhorn he's also an experienced tuba player.
Kriz Flew is a featured artist at Indaba. Together with his vocal group «Urban Voices», he won first prices at the Montreux Jazz Chrysler Award, the Young Swiss Jazz Award and several international awards for their album «The Gang».
Besides his main project «Wolkenpark», Kriz performs with the soul combo «Jazz-ce que c'est», the reggae band «Back Lash», the jazz quintett «Get the Vibes» and on tuba with «Tombak». He produces for other bands at his recording studio Klangfaktur.
More information http://www.krizflew.ch
Jean-Pierre Schaller (electric bass)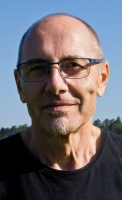 Since 2006 teacher for bass and ensembles at Hochschule Lausanne (hemu-jazzdepartement)
Present projects: «Tanga Zoo», «Deep Green»
1990–2010: «The Clients», «Funky Brotherhood» (7 cds, multiple European tours), «Scorpio Electric» (2 cds)
1980-1990: «No No Diet Bang» (3 cds), «Le doux parfum» (1 cd), «Inside Out» (1 cd), tours to Balticum, Canada, Spain, Italy, Germany, Russia
Freelance with Eddie Daniels, Bob Mintzer, Fred Wesley, Pee Wee Ellis, Hans Koch, George Robert, Mathieu Michel, Marcel Papaux. Po-Jama-Saraswati project in Jakarta (1 cd), Randy Brecker, Antoine Auberson, Russel Ferrante. Montreux Jazz Festival: guitar and vocal contest (since 2007)
More information www.jpschaller.ch
Andy Brugger (drums)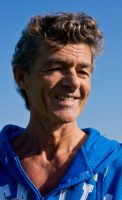 Professor for drums and rhythmic at ZHdK (Zürcher Hochschule der Künste), teacher at MKZ.
Present projects: «Tanga Zoo»
As Leader: «Donkey Kong's Multiscream» (2 cds, multiple European tours), «No No Diet Bang» (4 cds, concerts in Paris, Budapest, D, Lituania)
Freelance / Tours: Daniel Schnyder, «Infra Steff's Red Devil Band», «Jazz Live Trio», Jürg Grau, Harald Haerter, Bill Hardman, , «Herbie Kopf's Hipnoses», Heiri Känzig, Dominik Pifarelli, Charlie Mariano, Annie Whitehead, «Swiss Drum Orchestra», «Le Doux Parfum» (cd and tours in Slovakia, Canada and Sevilla), Heinz Affolter's «Electric Moods» (tour in Lituania and Argentina), Michel Wintsch (1 cd), Moncef Genoud Trio (tour in Canada und Tunisia), «Radio Osaka» (3 cds), «Clone Zone», «License To Chill» (live drum'n'bass band), 2 South Africa tours. «Fearless Five» with Michael Gassmann (2 cds), Valeri Toltov «Authentic Light Orchestra»
More information www.andybrugger.ch